The Hotel Industry has over the years gone through many changes.......One area that never changes is the one on one relationship that our front line employees have with our Guests. It is important that this relationship be the TOP priority when hiring our employees.
Not only do we have a responsibility to our parent companies to offer the best accomodations and service we also have the responsibility of staying within our Budget and still offer the best Guest Satisfaction available.
HOTELhelp realizes the need for top quality associates: We offer dedicated Workforce Partners in the following areas: Housekeeping, Shuttle Attendants, Front Desk, Grounds & Maintenance, Laundry Services & Breakfast Attendants.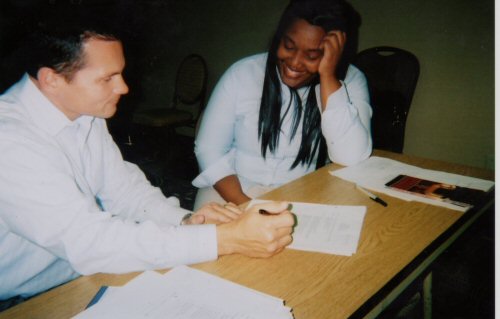 HOTELHelp staff reviewing handbook with new hire
HOTELhelp is not a temporary service but a permanent outsourcing solution for any size property. Our commitment to continuous improvement with hands-on approach to customer service is ever present among HOTELHelp hospitality associates.
Experienced housekeeper
working with new hire.

New houseman hard at work.
We offer exclusive help specific to the Hospitality Industry and offer employees with Hospitality Hearts that are dedicated to the Industry.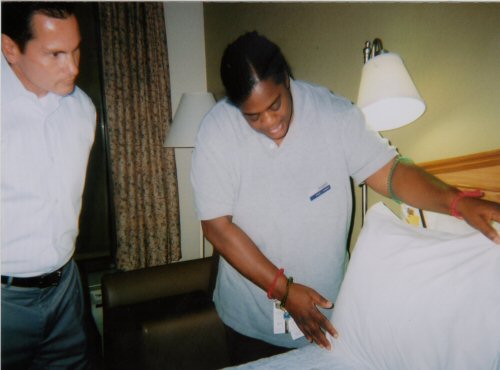 HOTELHelp Staff reviewing cleaning standards.
HOTELHelp provides professional employees well trained and dedicated to one goal:
"Customer Satisfaction".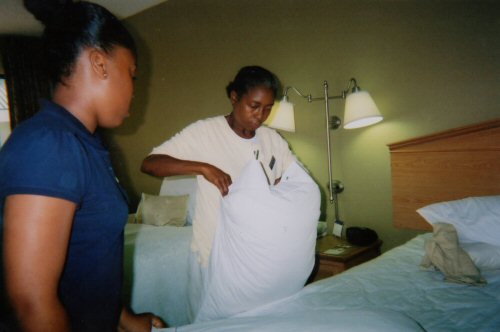 Experienced housekeeper training new hire.